Personalized Meal Plans to Suit Your Unique Gene Profile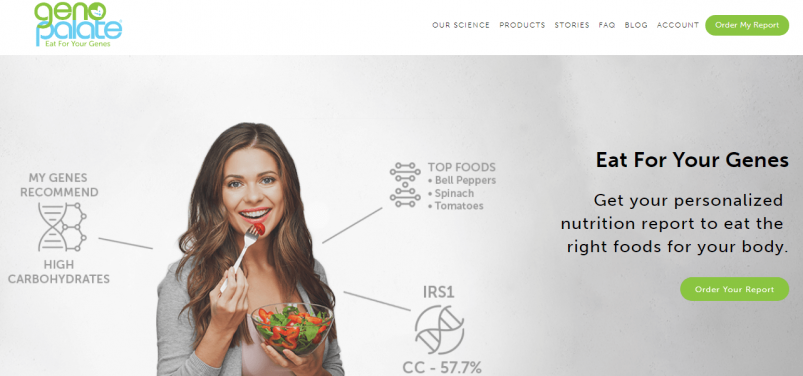 In 2016, health and wellness company GenoPalate joined the likes of DNAfit, Vitagene, and GeneFood in offering nutritional insights based on your unique genetic makeup. You can take the company's own DNA test or upload your raw DNA data if you've previously taken a test with either 23andMe or AncestryDNA.
Ongoing genetic research has shown that a one-size-fits-all approach to nutrition doesn't work. Therefore, GenoPalate analyzes more than 100 single-nucleotide polymorphisms (SNPs) in your DNA to see how you uniquely metabolize what you eat, so it can provide personalized meal plans and dietary recommendations to stay healthy and lose weight.
One limitation for potential international customers is that GenoPalate currently only offers its services within the United States.
Now let's see how it works and what you get.
Saliva Sample from a Cheek Swab, No Blood Required
The GenoPalate test kit requires a saliva collection that you obtain via a cheek swab – don't worry, it's super quick and painless. All you'll need to do is rub the swab against the inside of your cheek a few times before inserting it into a vial of preservative solution.
The big thing to remember is not to eat, drink, smoke, chew gum, or rinse your mouth for at least 30 minutes before collecting your sample.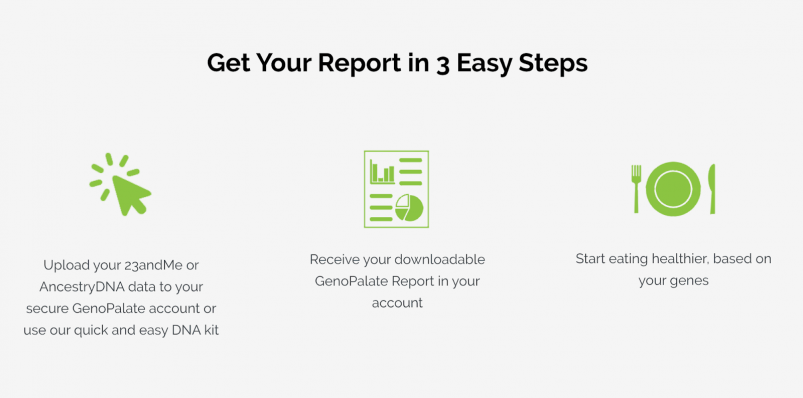 Each kit comes with a full set of instructions, a biohazard bag to hold your sample, and an addressed box to send it in for analysis. Once you've sent in your sample, just sit back and wait for GenoPalate to tell you that your report is ready.
5 Standout Features of GenoPalate
1. Analyzes 100+ SNPs
GenoPalate's lab looks at more than 100 single-nucleotide polymorphisms (SNPs). These are the most common genetic variants that occur between people. By analyzing these biological markers, scientists are able to discern how your body uniquely processes different types of food.
2. Nutritional Analysis of Hundreds of Foods
In addition to analyzing your unique DNA, GenoPalate scientists have also conducted an in-depth nutritional review of hundreds of foods. This allows GenoPalate to accurately recommend foods that can meet your specific needs and provide the nutrients that benefit you the most.
3. Recommendations Based on Solid Research
The results and nutritional recommendations are based on solid genetic research. According to the company, GenoPalate only selects "evidence-based research from high-impact clinical trials and population studies that directly link positive health outcomes with nutritional genomics." Plus, GenoPalate's labs are CLIA and CMS certified.
4. In-Depth and Actionable Insights
The in-depth, actionable insights include recommended macronutrients (carbs, proteins, and fats) and micronutrients (vitamins and minerals). The "Your Foods" section of your report lists more than 85 foods that you may benefit from eating more of, based on your unique genetic profile.
5. Personalized Recipes
One step beyond recommending specific foods, GenoPalate also offers an add-on of five personalized recipes (for an additional cost). Choose if you want to receive breakfast, lunch, or dinner recipes, and whether you have any cuisine preferences (e.g., Asian, Mediterannean, Mexiican) or dietary restrictions (e.g., lactose-free, vegan, gluten-free.
Similar Tests to Consider
For a comparable price as GenoPalate, Orig3n provides a wealth of nutrition insights, including things such as likely food sensitivities, plus hunger and weight traits. There are a number of other tests available, which means you can get this dietary information bundled with personalized fitness recommendations.
Vitagene is another good option to consider if you are interested in getting a whole lot of personal information based on your unique genetic makeup. In addition to food sensitivities, metabolism levels, and customized meal plans, you'll also get reports on exercise, your skin, and recommended supplements. Plus, each purchase comes with a free ancestry and ethnic breakdown. For the price, this bundle is hard to beat.
An Attractive Report with Nutritional Recommendations
You'll be notified by email when your unique report is ready to be viewed via your online account. If you uploaded raw DNA data from another testing company (AncestryDNA or 23andMe), this should be within one to three weeks. If you took GenoPalate's own test, it will probably take four to six weeks to see your results.
The 20-page report is pretty attractive despite the very in-depth information it contains. It starts with a "Crash Course" on genetics that tells you how your genes and nutritional needs are interrelated.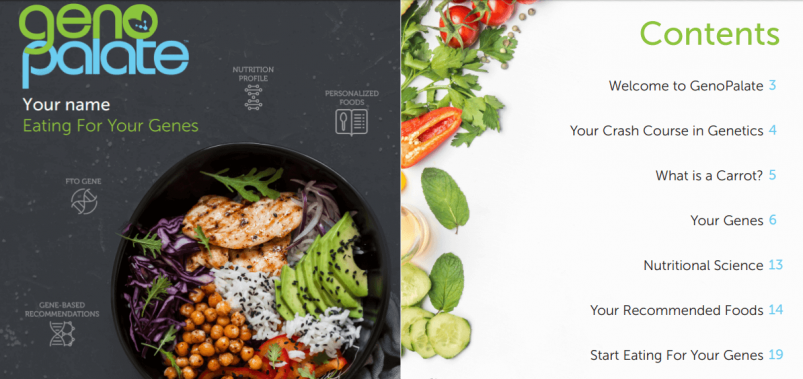 The report details how your specific gene variants affect the amounts of various nutrients (such as fats) you should be eating: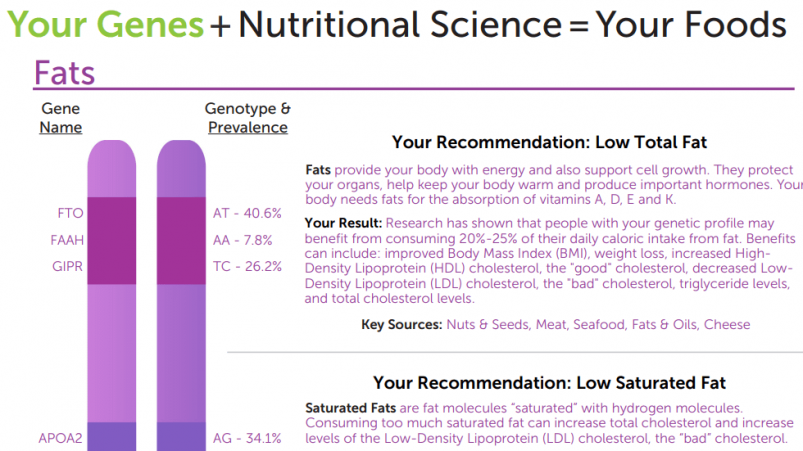 The report goes on to recommend specific foods that will benefit you. For example, I was encouraged to consume more carbohydrates, fiber, folate, and a few key vitamins found in certain fruits, vegetables, and grains: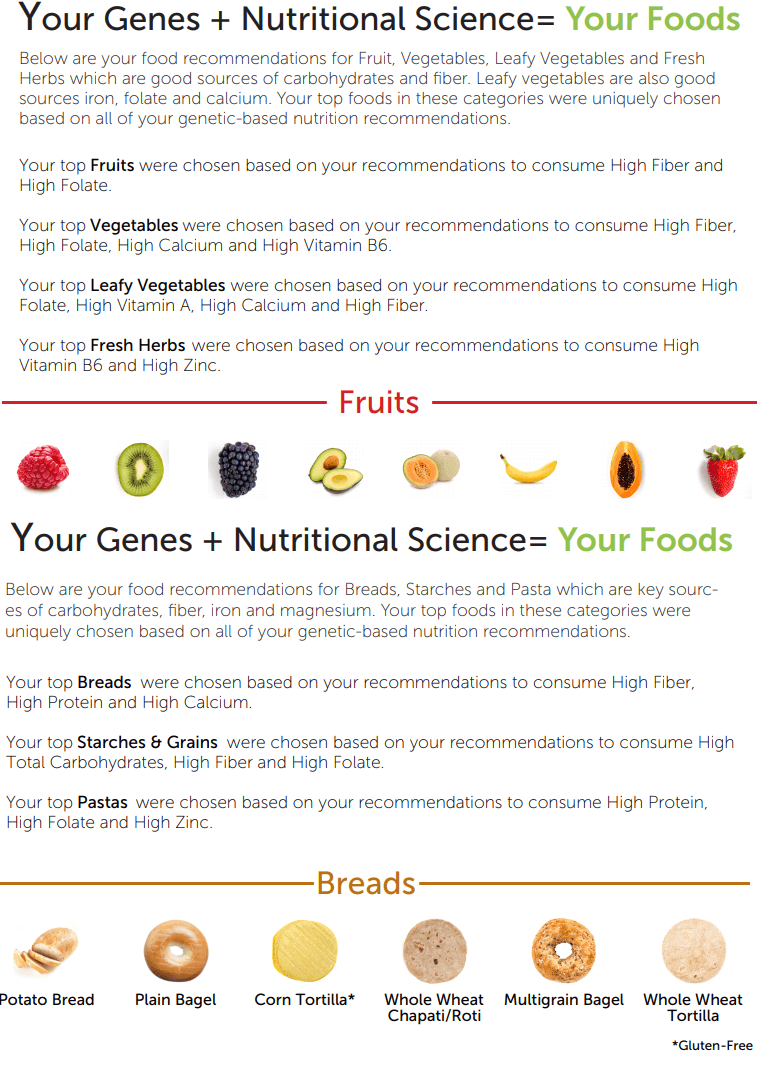 High Prices Unless You Already Have Raw DNA Data
Although there are one or two more expensive competitors such as Helix, it's hard to recommend GenoPalate to anyone on a tight budget. You can get similar nutritional insights at a lower cost from the likes of Vitagene, GeneFood, Orig3n, or Nutrisystem.
Small discounts may be available occasionally (at the time of writing, all kit options included a few dollars off). However, the best way to save money is to upload your raw DNA data if you've already taken a test with either AncestryDNA or 23andMe. You'll get exactly the same report as a result.
If you do decide to pay for GenoPalate's services, you'll find that it accepts payments in US dollars via most major credit cards. Refunds are available only at the company's discretion.
Limited Self-Support Resources, but Rapid Email Responses
GenoPalate's website includes a decent set of frequently asked questions, arranged into logical categories:

That's as good as it gets for self-support resources, since the blog is rather bare and there seems to be no knowledge center. The company's social media pages are active, but probably won't be of any real help.
You can contact the company by live chat and telephone (during business hours), email, or postal mail. I received relatively rapid responses to my emailed questions: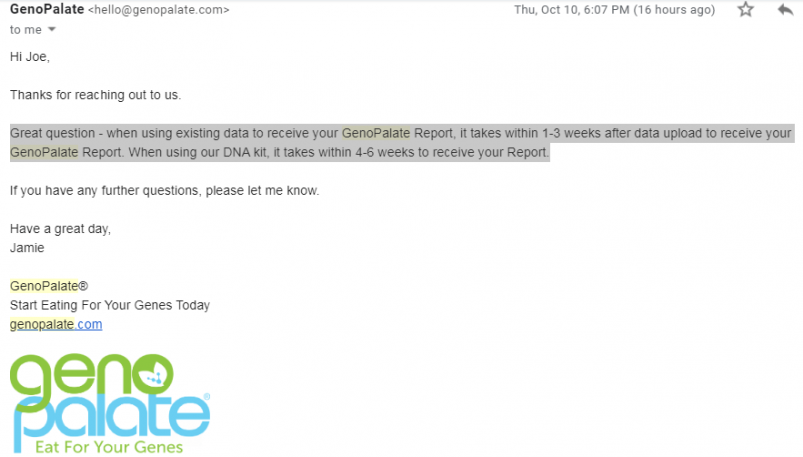 The Report Could Be Worth the Cost
GenoPalate is not for the cost-conscious customer. However, if money is not your main concern – and you're solely interested in dietary insights – you might quite like the attractively presented, personalized nutrition report.
If you already have raw DNA data from a previous provider, you probably have nothing to lose by uploading it here to get exactly the same report at a lower price. In this case, it could be worth the cost, just beware that you'll still have to pay extra if you want personalized recipes.